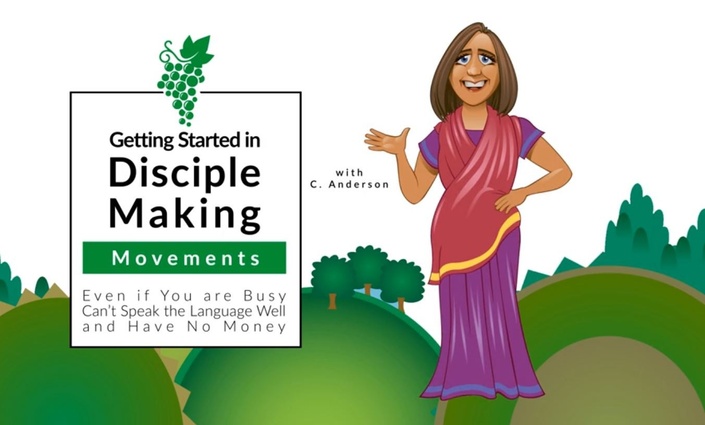 Getting Started in Disciple Making Movements
Even if You Are Busy, Don't Speak the Language Well and Have No Money
REGISTRATION FOR THIS COURSE IS NO LONGER OPEN.
TO BE NOTIFIED ABOUT WHEN IT WILL BE AVAILABLE AGAIN, PLEASE CLICK THE LINK BELOW.
In this course you will go from feeling confused, too busy, and a bit overwhelmed by the task of trying to reach the unreached to feeling inspired, hopeful and full of faith that God can multiply disciples through you and your team. You will develop a step by step faith-filled plan for prayer, evangelism and finding key local influencers (Persons of Peace). You will learn simple, inexpensive approaches proven world-wide to lead to multiplication. Time management and focus will come into shape. You will learn how to start your first Disciple-Making group.This group will be set up to grow and multiply, launching new groups in months and years to come.I will also throw in some free bonus e-books on how to face some of the obstacles that come after that point.

Here's how it looks.
Course Curriculum
Module 1: Clarify Your God Sized Dream
Available in days
days after you enroll
Module 2: Am I Too Busy to Multiply Disciples?
Available in days
days after you enroll
Module 3: Design Your Prayer Plan
Available in days
days after you enroll
Frequently Asked Questions
When does the course start and finish?
This course is not open for registration at the moment. It will reopen again in either November 2019 or early 2020. Please click the link mentioned above to be notified of when it opens. Or check back soon!
What if I have an emergency and get behind, or I get too busy to watch the videos?
No problem! Though a new module becomes available to you every two weeks, once sent to you, the videos are available for life. No need to worry. You can work at your own pace. If you take a few weeks off in the middle and come back to it, no problem.
Do I have the time it takes to do this course?
Busyness is an issue for all of us. It is one of the major obstacles to being a fruitful disciple-maker. That is why I have devoted an entire module to this topic and even included it in the subtitle of the course! I definitely have faced this myself as a mission leader who travels to speak and carries many other responsibilities besides disciple-making. In Module two I will show you key tips to overcome this and how to create time in your life for what is most important to you. To make it worthwhile you need about two hours a week to watch the videos and do the activities.
Is this course only intended for full time pastors or missionaries?
Absolutely not! This course is designed for anyone who is serious about making disciples among the least, last and lost. Every disciple can make disciples. No special titles or qualifications required!
How is this course different from other online trainings about disciple-making?
There are two major differences. One, this course is taught by someone who has launched disciple-making movements herself on the field. It is loaded with real life examples from C. Anderson's personal journey and struggle to launch a Disciple Making Movement. Another difference is that it is taught by someone who you will easily identify with, not by a big-name leader or pastor. The instructor understands your struggles and has been where you are today, not so very long ago. Another uniqueness of this course is that it offers both a Whatsapp group and Coaching (Premium plan) from experienced field practitioners who have faced the same challenges you have. They will help you move forward, get unstuck if you are and stay on track with your goals.
What if I don't have internet access one week?
No problem. You can catch up the next week. You will not get behind and it doesn't take long to catch up with the rest of the class.
How long does it take to watch the videos?
Each module includes four or five short videos with a total listening time for each module of around thirty minutes. This gives you plenty of time to also read the bonus PDFs and do the activities assigned.
Can the videos and pdfs be downloaded?
Yes. Absolutely. We want you to be able to refer back to these easily or to use them offline if that is easier for you.
What if I don't feel like this course is helpful to me?
If you start the course and realize it isn't what you were wanting, make use of our 100% Money Back Guarantee within 30 days and we will refund you the money you've invested. We really don't want people to pay for something that doesn't end up helping them make disciples that multiply! There is absolutely no risk in taking this course. We removed that with our guarantee.
Can you remind me of everything I am getting if I enroll in this course today?
Sure. If you purchase the Basic Course - Getting Started in Disciple Making Movements: Even if You are Busy, Can't Speak the Language Well and Have No Money you will get 25 teaching videos, 24 PDFs to further explain the lessons, several relevant e-books, access to a student Whatsapp group, and a Bonus video of a Disciple-makers meeting led by the instructor. In the Premium Course- Getting Started in Disciple Making Movements: Even if You are Busy, Can't Speak the Language Well and Have No Money you get everything listed above under the Basic Course PLUS 3 one-hour coaching sessions and access every two weeks to a live video Q&A with the instructor.
Still Undecided? This course is perfect for you if…
You've heard about Disciple Making Movements and always wondered if a movement could start through someone like you.

You've been trying to multiply disciples and start groups but are stuck and not making the kind of progress you thought you would.

You are involved in discipleship but looking for better ways to train disciples to make more disciples.

Reaching the lost and making disciples is a high priority and you are willing to change in order to see greater fruit.

You already spend several hours a week doing outreach and teaching believers. You want to see your Kingdom fruit increase.

You a busy person, but are deeply committed to the Great Commission.

Language learning is difficult, but you are longing to reaching the unreached around you.

You are excited about the dream of launching a movement of Jesus followers that will literally transform your entire region.

You want to dream big with God and invite others to join you in doing the impossible with Him.

You are ready to put in serious time and effort to multiplying disciples among the Least, Last and Lost…among those who are waiting to hear of God's love.
Did you find yourself saying "That's me!" to many of those?
Then I will see you inside of…
Getting Started in Disciple Making Movements: Even if You are Busy, Can't Speak the Language Well and Have No Money
This course is not open for enrollment.